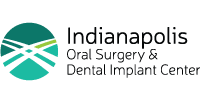 Bad Headaches May Not Mean You Have Migraines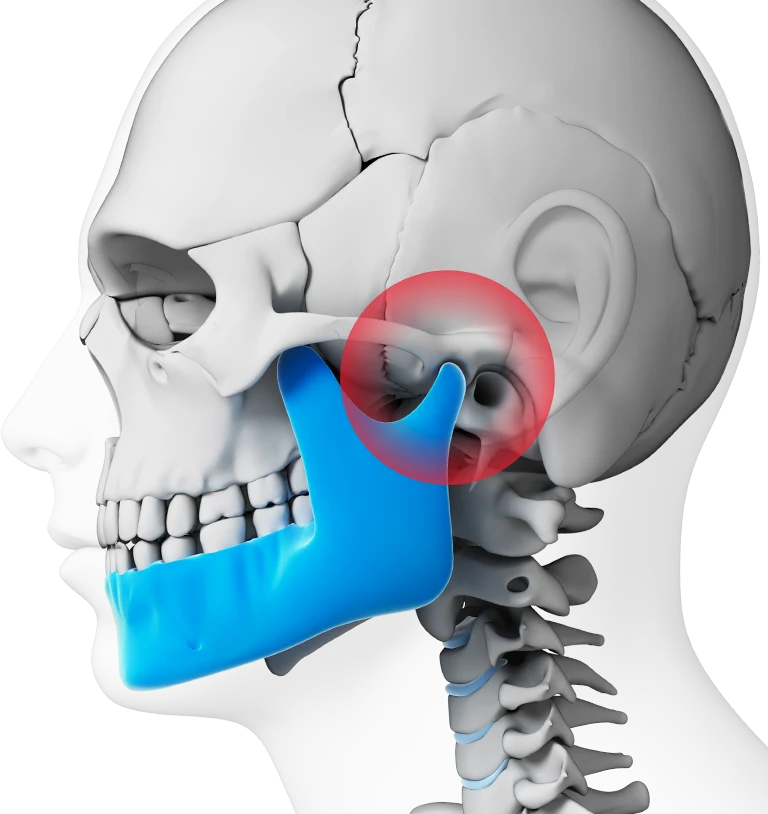 "My experience was wonderful. I came in with lots of pain and can now say I have limited to no pain. I can't remember the last time my jaw locked either. I expected it to be a much slower process, but it went by quickly."
- S.K. Young - Actual TMJ Patient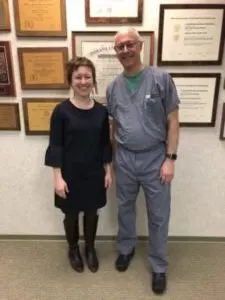 "I didn't realize how much TMJ was impacting my life because I'd lived with the symptoms for so long, but Dr. Falender and his staff were so compassionate, knowledgeable, understanding and helpful. I'm so glad I sought their help-they've made such a difference! Thanks for all you do!"
- Stephanie H. - Actual TMJ Patient
"Before getting the Urbanek TMJ splint (from Dr. Falender), I had experienced severe jaw pain, headaches, shoulder and arm pain and a limited range of motion with my jaw. After a relatively short period of wearing my TMJ splint, I am 100% symptom free!"
- Andrew F. - Actual TMJ Patient
"The Urbanek TMJ splint from Dr. Falender has helped my jaw greatly. Before I started wearing the splint, I had frequent headaches and jaw popping.. After wearing the splint for a couple of months, my jaw has improved tremendously! My jaw no longer locks, I hardly have headaches/migraines, my neck is no longer sore, and I have no jaw pain. I strongly recommend the TMJ splint to anyone who has TMJ (TMD). It is worth the price."
- Logan Y - Actual TMJ Patient
"Coming in to Dr. Falender's office really helped me. My sinus issues subsided. My jaw issues got better and my husband even says that I snore less."
- Whitney C. - Actual TMJ Patient
"The TMJ splint has improved my TMJ symptoms by 95% since starting treatment. My symptoms of headache, ear pain, dizziness and ringing in my ears have almost completely gone away. I am grateful fort this treatment option and thankful to Dr. Falender and his staff."
- Julie L. - Actual TMJ Patient
"The Urbanek TMJ splint has been a game changer for me. Before the splint I was experiencing major jaw, neck, shoulder and arm pain. I suffered with TMJ symptoms for about 5 years prior to taking corrective action. The cost of the remedy kept me from seeking a solution sooner than I did but I finally gave in when I couldn't handle the pain any longer. Once I began wearing the sprint, I noticed immediate improvement and it only continued to get better. I am beyond satisfied with the results that I have experienced and absolutely recommend this product to anyone with TMJ."
- Toni W. - Actual TMJ Patient
"When I was referred to Dr. Falender, I had a locked jaw. He and his staff treated me with professionalism, kindheartedness and the special care that my painful jaw needed. The TMJ splint has from the beginning, been the happy solution to allow me to smile and enjoy a pain-free life again. "
- Cynthia G. - Actual TMJ Patient
"I had been dealing with TMJ since I was about 13 years old. I had gone to a lot of different doctors. I went through mouth guards, and even had to get my wisdom teeth removed but nothing seemed to work. When I met with Dr. Falender and discussed the splint I thought it was just another mouth guard and that it wouldn't work, but now 3 months later, my pain and symptoms have been reduced down by 95%. "
- Grace S. (16 Years Old) - Actual TMJ Patient
"I came because of all the pain I had been dealing with. Such as headaches, neck pain, shoulder pain, lock jaw. After using the TMJ splint every day, all day and night my symptoms have gone away. This has been a blessing to me."
- Emma B. (16 Years Old) - Actual TMJ Patient
"I had been suffering from lock jaw, popping joints, headaches, earaches and pain when opening my mouth when I was referred to Dr. Falender. He fitted me with the Urbanek TMJ splint which was very easy to wear. I am 5 months out and my symptoms are gone. Thrilled with the results!"
- Tina F. - Actual TMJ Patient
"The first week of wearing the appliance (Urbanek TMJ device), I did not feel any changes. Shortly after I started noticing less jaw pain. By week three, my headaches were gone. I have been extremely pleased with the results. I had been in pain for so long; I forgot how nice it is to be pain free."
- Christine M. - Actual TMJ Patient
"I have had TMJ appliances through an orthodontist and a general dentist in the past. Clenching and grinding my teeth led to headaches, neck and jaw pain with ringing in my ears. Since Dr. Falender started treatment with the Urbanek device, I have experienced over 90% reduction in symptoms and no tinnitus! As a certified massage therapist, I understand the importance of good alignment, relief of muscle tension and reduction in inflammation. My bite feels more in alignment for the first time in years. As an added benefit, No More Snoring!"
- Suzy F. - Actual TMJ Patient
"I've been having serious jaw issues for over a year. I saw Dr. Falender's site online, made an appointment and got fitted for my Urbanek splint. I've been wearing it 24/7 since June 10, 2020 and have had very positive results: decrease in headaches and (jaw) pain with significant ease in opening and closing (my mouth) and (decreased) jaw tension. I highly recommend Dr. Falender, his staff and the splint."
- Donna W. - Actual TMJ Patient
"When suggested I get the appliance (Urbanek TMJ splint) for my TMD, I did not believe it would work. But I was wrong! Within a week, I noticed improvements and within 2 weeks I had full use of my mouth. Thank you Dr. Falender"
- Barbar R. - Actual TMJ Patient
"I am 74 years old. About 18 months ago I experienced extreme pain in my right jaw. I contacted my dentist who suspected it was TMJ. I was then referred to Dr. Falender. (Described as an expert in this field). He confirmed the diagnosis. He made a custom apparatus (Urbanek TMJ splint) for the roof of my mouth to be worn 24 hours a day. Through a precise schedule he monitored the progress. Asking questions pertaining to the TMJ symptoms. As of today I am pain free and have no symptoms at all. I didn't expect 100% improvement, but he did it!"
- Janet K. - Actual TMJ Patient
"I first reached out to Dr. Falender and staff while browsing online for TMJ solutions. I had previously wore a device from another specialist years ago but was intrigued by the 9-12 weeks with possible results opposed to 9-12 months from the previous device. From start to finish it was an easy process. My worst symptoms were jaw pain, neck pain, and ringing of the ears. The first 4-6 weeks my results were at a 50% improvement by the end of the 9-12 weeks I am at a 90% or more improvement. Dr. Falender and his staff are wonderful! My experience was above and beyond what I could have hoped it to be. Being pain free has made my life "normal" and I am so appreciative."
- Jeananne Y. - Actual TMJ Patient
"The Urbanek device has helped me immensely. I can bite down and not feel my mouth sliding around. I don't have the loud ringing in my ears and I don't wake up in the morning with the severe jaw pain that I was suffering from before I began wearing it. I would recommend the Urbanek device to anyone who is experiencing jaw pain, ringing in the ears, and/or headaches. I also sleep much better and wake up more rested than before wearing the device. My husband can also attest to this as my snoring no longer keeps him awake at night."
- Pamela T. - Actual TMJ Patient
"My Urbanek device has helped me be able to have relief from the awful headaches dizziness and jaw locking I have suffered from for many years. My headaches are less frequent and less intense. I have had less dizziness and ear discomfort also. This device has helped make my life be more tolerable. I am grateful for all the help I have received from Dr. Falender and his staff."
- Marjorie H. - Actual TMJ Patient
"I sought treatment from Dr. Falender after seeing my daughter's successful treatment for TMJ. As a life-long TMJ sufferer I decided to seek relief from the many symptoms that had plagued me most of my life. I cannot say how much better I feel after using the Urbanek splint. I sleep better, wake up refreshed without a headache and have significantly reduced symptoms all throughout the day. It has truly been a life improving technique and Dr. Falender and his staff have been helpful and professional throughout the entire process."
- Michele G. - Actual TMJ Patient
"I suffered from migraines, headaches and jaw pain from TMD. I was skeptical how a splint was going to help me, but was pleasantly surprised with the results. My quality of life has improved as my jaw pain is almost non-existent and my headaches and migraines have dramatically decreased in both frequency and intensity. I highly recommend the Urbanek splint."
- Elizabeth Z. - Actual TMJ Patient
"I was skeptical at first of this device; however, after just a few days my ear pain and neck pain were gone. After a month I saw so much improvement. I would highly recommend Dr. Falender and this device. 90% reduction in symptoms in 9 weeks."
- Sally F. - Actual TMJ Patient
"I sought out Dr. Falender due to years of jaw pain, tightness and TMJ issues. The staff has been wonderful and very accommodating during the whole process. The device has improved my quality of life significantly and I can finally go through my day without thinking of my jaw and the issues that came along with it. I recommend Dr. Falender to anyone who has suffered from TMJ related issues."
- Dr. Caleb Duckett - Actual TMJ Patient
"I am so thankful for Dr. Falender and the staff at Indianapolis Oral Surgery for walking me through what TMJ is and helping me treat it. I used to wake up in pain every morning and now I never have to worry about that again. Even talking could be painful, and I love to talk, so I am grateful to be able to go back to being my talkative self without pain. Thank You!"
- Caitlin R. - Actual TMJ Patient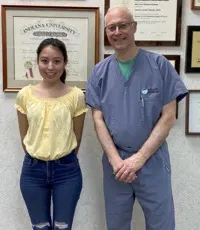 "Before I got help from Dr. Falender, I used to wake up almost every morning with constant pain on my jaw and have many aches. I felt like I could not eat comfortably and it was frustrating dealing with my jaw. Thanks to Dr. Falender's TMJ treatment, I definitely feel like my quality of life regarding my jaw has increased by a lot. I don't wake up to pain anymore. You can really feel a difference once getting treatment; it's definitely worth giving it a try."
- Samantha M. - Actual TMJ Patient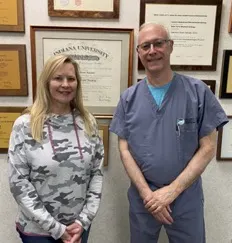 "This device (Urbanek TMJ splint) has been a life saver. It is such a relief to finally get answers and an explanation as to why I was having such pain."
- Sherri B. - Actual TMJ Patient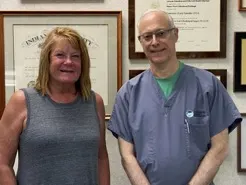 "This device has done amazing things! I no longer have jaw pain or ringing in my ears or ear pain. After years of neglecting my teeth and feeling embarrassed to smile or eat in front of people-I finally have hope. Wish I would have done this sooner."
- Debbie H. - Actual TMJ Patient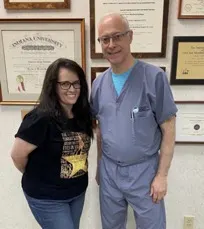 "Before coming in to see D. Falender, I was in excruciating pain due to an accident that cracked the roof of my mouth. Once the Urbanek splint was in place, I felt instant relief. Dr. Falender and his staff are super friendly and are there to answer any questions you may have and make you feel at home! Having this device is a godsend, and I couldn't be happier living a pain free life again."
- Ann R. - Actual TMJ Patient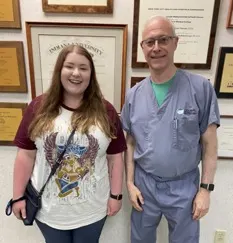 "During my first appointment I was having a lot of jaw pain and my jaw would lock several times a day. My jaw would typically hurt worse in the mornings. However, wearing this mouth device (Urbanek TMJ splint), 24/7, my jaw hasn't been locking and I don't have any jaw pain."
- Hannah G. - Actual TMJ Patient
"I spent years suffering from jaw pain with no answers or solutions. After receiving the (Urbanek) TMJ splint, I was pain free, slept better and was finally unburdened by my jaw pain. I am glad I was finally able to get the results I was looking for."
- Amelee W. - Actual TMJ Patient
"When I met Dr. Falender, my pain of TMJ was almost unbearable. I couldn't open my mouth to eat comfortably and ear pain was constant even while sleeping. My jaw hurt so much I was using hot and cold packs to stand the aching. Also terrible headaches!
Alter the very first day of wearing the Urbanek TMJ splint; almost all of my problems were minimal. The first week all painful symptoms were gone. I was amazed and so pleased with the results he helped me experience. I am so glad that he knew exactly what would help me and it certainly has been easy to wear and helped so fast. I'm very pleased with everything.
I highly recommend Dr. Falender and his great office staff as they got the desired results and truly do make me feel comfortable and care so much!"
- Jeanine A. - Actual TMJ Patient
"I received and started wearing my splint (Urbanek TMJ device) on April 15, 2021. 3 weeks later (5/6/21), I was at 40% improvement. By 6/17/2021 I considered myself at 90% improvement. The splint has definitely proven to help with TMJ pain. Dr. Falender and his team have been extremely kind and helpful. Thank you, Dr. Falender!"
- Rhea R. - Actual TMJ Patient
"I came here to get over my headaches. I've had 3 peptic ulcers from NSAID abuse. Since I've gotten my oral device, I've not had a single migraine and my last UGI (Upper GI) scope was clear! Very worth it!"
- Linda G. - Actual TMJ Patient
"Translated from Spanish. I am very happy to have found this clinic and put it in the hands of Dr. Falender. For many years I suffered from migraines until the day I could no longer take the pain. Well, it was not only a headache, but also the jaw. The pain was going up and then down to the neck and shoulders it was extremely strong. It made me feel dizzy with vertigo, it made me cry the pain. Desperate I searched the internet and found this place. I thank God for the gadget in my mouth that Dr. Falender put. Little by little my pain began to diminish and now I feel very grateful to God and to Dr. Falender who finally discovered what was causing my pain. The headaches, neck pain, vertigo and everything is gone and thanks for the device I had a new diet. I regained my normal weight. Thank you very, very much Dr. Falender & staff."
- Maribel M. - Actual TMJ Patient
"The device has been very adaptable to my lifestyle. It has allowed me to start the healing process with no discomfort. It is very comfortable and is very to install or remove. It has allowed me to have improved sleep, I no longer snore and I generally sleep through the night; neither of which I was able to do for many, many years! Overall, the device has improved my sleep and reduced my pain level and started the healing process."
- Ron L. - Actual TMJ Patient
"Thank you Dr. Falender for helping diminish my jaw pain. Headaches have almost disappeared. No more jaw locking! This is a great experience! I highly recommend Indianapolis Oral Surgery & Dental Implant Center and its staff."
- Judith H. - Actual TMJ Patient
"This device helped me with a lot of my symptoms and I have noticed a continued improvement. Most of my symptoms (jaw pain, tinnitus and vertigo) have faded after months of use and my teeth feel better because of no clenching or grinding. The ease and ability of the device makes it very convenient and its easy to clean. I will likely continue to use this device for years to manage my TMD."
- Kyle S. - Actual TMJ Patient
"I've dealt with TMD and migraines since middle school. I've seen dentist and doctors with no results at all. I'd given up. My symptoms of pain became so severe that I was seeking emergency treatment and referral to rehab for resulting issues. I was on several muscle relaxers and painkillers which didn't help.
Seeing Dr. Falender was my last hope for any kind of relief. Six weeks after getting my Urbanek splint, the migraines, vertigo, ear pain, tendinitis and jaw pain, popping and locking are almost nonexistent. I never expected even 50% improvement, let alone the 90% I am experiencing.
I went from drinking Ensure because I couldn't close my jaw and eating entirely normally without any pain. Dr. Falender has been incredible, friendly, and results driven from day 1. Anyone having any hesitation should just go and meet the staff and Dr. Falender for yourself. The splint is 100% worth every penny.
10/10 would highly recommend."
- Jenny A. - Actual TMJ Patient
"I came to see the Doctor (Dr. Falender) because I was having trouble with my jaw tightening. I didn't know that my vertigo and other problems (tinnitus) that I was having was even caused by my jaw. But just a few months of using my custom made device (Urbanek TMJ split), my symptoms are completely gone. The staff was excellent and were always polite and ready to answer any questions."
- Robert R. - Actual TMJ Patient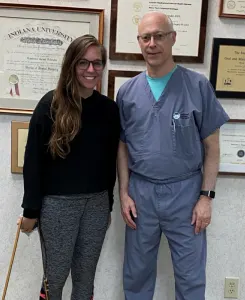 "9 weeks in on using my device (Urbanek TMJ splint) and my jaw clicking is gone! Still some improvement needed for the stiffness, but the doctor has been monitoring it well. This is a great alternative to surgery to help with TMJ. Dr. Falender is very experienced with patients that need this type of assistance and is happy to help. Recommended!"
- DeeAnn G. - Actual TMJ Patient
TMJ (temporomandibular joint) disorders are a family of problems related to your complex jaw joint. If you have had symptoms like pain or a "clicking" sound, you'll be glad to know that these problems are more easily diagnosed and treated than they were in the past. Since some types of TMJ problems can lead to more serious conditions, early detection and treatment are important.
Trouble with Your Jaw? TMJ disorders develop for many reasons. You might clench or grind your teeth, tightening your jaw muscles and stressing your Temporomandibular joint. Or, you may have a damaged jaw joint due to injury or disease. Whatever the cause, the results may include a misaligned bite, pain, clicking or grating noises when you open your mouth, or trouble opening your mouth wide.
Take A Quiz To Find Out Whether You're Suffering From TMJ Disorder?
Answer Some Simple Questions to Find Out If Dr. Falender's TMJ Solution Might be Right For You.
Am I Likely To Develop The Condition?
What Kinds Of Treatments Are Available?
TMJ Disorder Can Be
TMJ Splint
DID YOU KNOW that nearly 50% of all women suffer with unexplained headaches, migraines, earaches, neck pain, jaw pain, vertigo or shoulder/arm pain?
Most people do not realize that these symptoms are due to the inflammation in their JAW JOINT.
Dr. Urbanek's TMJ Splint is a small acrylic piece that fits comfortably in the mouth and is uniquely designed to relieve the jaw joint inflammation. It's more than just a dental splint or mouth guard… it's a life changer!
Dr. Tony Urbanek, inventor of the patent pending, drug-free, non-surgical, permanent solution to jaw joint problems, arrived at this treatment after performing thousands of surgeries and realizing the relief was often only temporary. He went above and beyond the typical dental mouth guard or splint. The result: To-date over 1,000 patients have been treated with this pioneering new method with over 90% success.
This patented device is designed to remove 90% of the load from the temporomandibular joint (TMJ). By doing so, the inflammation is decreased and the symptoms are relieved.
The Urbanek TMJ Splint is unique from other devices used to treat TMD because it can be comfortably worn 24/7 to quickly relieve the joint.
2000 Splints Delivered with a 95% Success Rate!
Nearly 1 of 2 women between the ages of 16-65 are suffering with TMD related symptoms.
Schedule a consultation to find out if you are a candidate for the Urbanek TMJ Splint!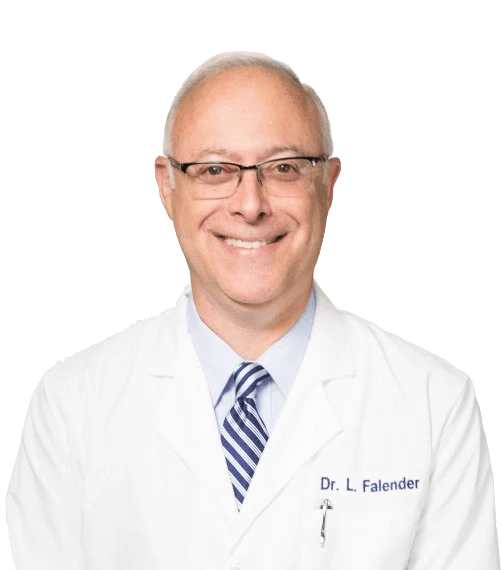 Lawrence G. Falender, DDS
Board-Certified Oral & Maxillofacial Surgeon
Dr. Falender is a board-certified oral and maxillofacial surgeon. He has practiced oral and maxillofacial surgery, implant surgery, and laser surgery in Indianapolis, Indiana, since 1987. Dr. Falender is a graduate of Indiana University and received his Doctor of Dental Surgery degree from the Indiana University School of Dentistry. Dr. Falender is Indianapolis Premier Oral Surgeon & Dental Implants Specialist.
He is an associate professor of Oral and Maxillofacial Surgery at the Indiana University School of Dentistry. Dr. Falender enjoys traveling, sports, music, and spending time with his family.
TMJ Disorder Is Extremely Common
Some estimates suggest that TMJ disorders affect over 10 million Americans.
Our Team Looks Forward to Welcoming You To
Indianapolis Oral Surgery & Dental Implant Center
We hope we're your dental home for life! You can contact us by filling out the form below. Let's discuss your goals, swap stories, and care for your smile.